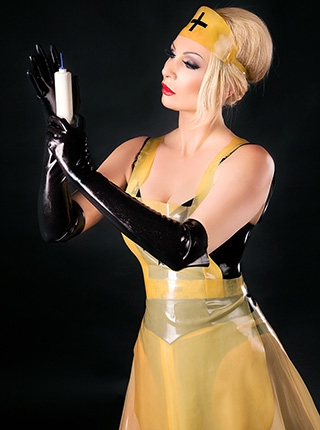 Portfolio
Nothing is extraordinary.
It pleased Nature, when she created men, to distinguish their instincts as well as their faces, and we should not be more surprised at the variety which she gave to our facial features, but over those which she places in our affections.
Rubbergoddess Jade
Do you love the odeur of rubber and shrouded completely in it? Tell me your most secret and intimate fantasies , reveal your bizarrest rubberthoughts to me and you will find the perfect symbiosis of real BDSM and passionate fetishism. You will let yourself fall and dip into a exzessive rubberworld.
Multilayered gumming, a large selection of bodysuits and rubberdolls, rubbermasks and oxygenmasks, rubbervacuphagi, rubbersarcophagi, rubbercube and many, many more equipment guarante you an unforgettable rubberpleasure.
The Mistress is an expert for Feet-, Nylon- and High Heel Fetishism
I love to watch you while you lick my shoes and boots clean and that's why should show me your devotion, otherwise I have to punish you. The smell and the beauty of my feet will make you go crazy.
I will teach you, how to worship my feet, I will enjoy your tongue between my toes and all over my goddess like feet.
Transvestite Transformation
I will make you to whom you are destined and you will get what you deserve! No transformation is unthinkable for me. With great passion I will turning you to you, with the necessary rigor and consistency, the appropriate behavior and the adequate manners.
Depending on the situation, I will lovingly reprimand you, rigorously punish you and chastise you or show you befor others.
For me, it is just a great pleasure to slip into the role of the Grande Dame, the strict governess or the ordinary pimps to preset your perfect counterpart.
Personal Preferences:
Erotically and classic dominance from soft to extrem
Flagellation, Spanking, swing the cane
Rubbersession / heavy rubber
Transvestite/ Transformation
Highheel-, foot - and nylonworshipping
Human animal Training
White room
CBT
Golden shower
Facesitting
Spitting
Bondage, Fixation, Vacuumation
Tease and Denail
Electricity therapy
Roleplay expert
and many more