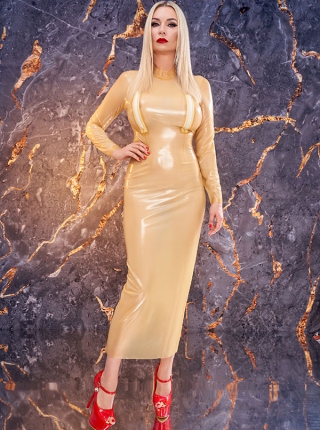 Miss Jade
I'm the dominate experience for the submissive gentlemen, who appreciates his position under the force of a high-class lady.
I welcome you in a top-class dominatrix - and fetishstudio. Enjoy the perfect symbiosis of real BDSM and passionate fetishism with me.
Visit me in our excellent equiped rubberparadise. A complete floor is waiting for you, fully stored with rubberequipment you desire. Let yourself fall and dip into a exzessive rubberworld.
No fantasies and bizarre wishes are strange for me, every session from soft to hard is welcome.
Before the beginning of a session, of course I take time for a trusting conversation, where you can tell me all your fantasies.
A special preference I have for transvestite transformation sessions. With great passion I transform you into the naughty, nasty pupil, the submissive maid, the rubberdoll, the perverted bitch or the lasciviously slut and after that I teach you, with the necessary strict, to behave adequate.
Even bizarre suffering may be presented to me. In our authentic and high-quality clinic I treat from mild complaints to complex cases. Exceptional examination equipment and therapy forms / electrotherapies are used here and make your visit to my office hours an extraordinary white-room-enjoyment.
I'm looking forward to welcome you in the house of bizarre dreams!